Most conventional scoliosis treatment for adults is only aimed at masking the symptoms and not correcting the underlying cause but now there is treatment for adult scoliosis that can actually help with the root cause of the condition. To understand this we must first look at what causes scoliosis to progress and become painful in adulthood.
Progression in Adult Scoliosis
What causes progression of scoliosis?
There are two types of scoliosis progression that occur in adulthood. Rapid progression which is hormonally influenced and Gradual Progression which is caused by gravity.
Rapid Scoliosis Progression

For a woman with scoliosis there are 3 times in her life that she is at the greatest risk for rapid progression of her scoliosis and they all involve sudden shift in hormonal changes.
1. Puberty
2. Pregnacy
3. Menopause
Puberty has the added stressor of a period of rapid growth that can cause a sudden progression of a scoliosis. Pregnancy has bio-mechanical stressors of a rapidly changing center of gravity in the 3rd trimester combined with the mix of the hormone Relaxin that causes ligamentous laxity in the pelvis to allow for passage of the baby. Relaxin doesn't just affect the ligaments of the pelvis, it affects all the ligaments of the spine, thus can cause progression of a scoliosis if a woman is doing nothing to support her spine. Menopause causes demineralization of the spine which can result in sudden bony changes in the spine due to osteopenia and osteoporosis.
Gradual Scoliosis Progression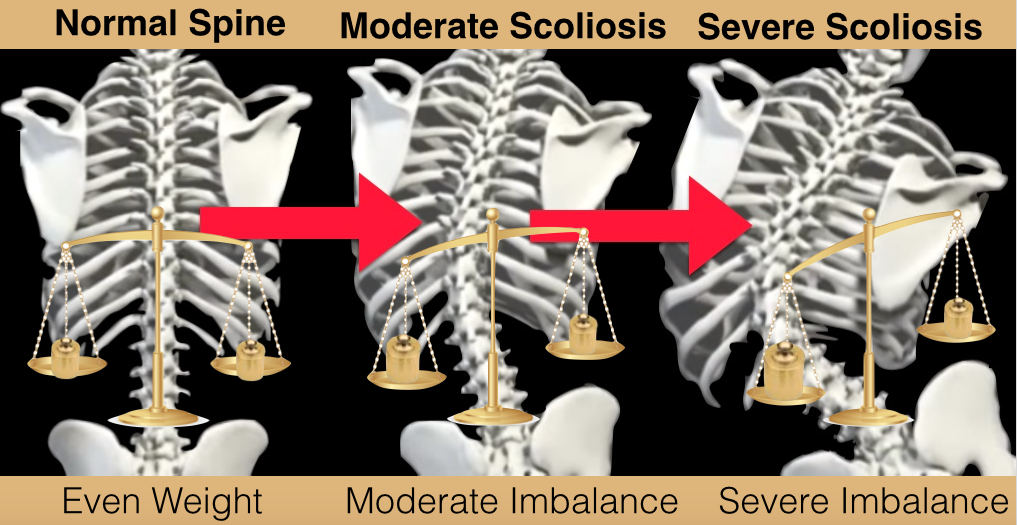 Also, for scoliosis curves that have advanced to 30° or more in adolescence have a greater risk of slow progression into adulthood at a rate of about 1° per year, which can add up over time. This type of progression occurs due to gravity taking advantage of the postural imbalances caused by the shift in weight by the scoliosis. The greater the movement is away from the midline, the greater the imbalance, the harder the body has to work just to hold itself up and the more it tends to gradually drift further away from midline. This sets up a vicious cycle of scoliosis that tends to snowball over time and eventually causing pain.
Vicious Cycle of Scoliosis
To learn more about the process of how a scoliosis progresses overtime to eventually cause pain watch the video presentation below:
Stopping Adult Scoliosis Progression
Therapies aimed at interrupting the vicious cycle of scoliosis can help the body become more balanced and reduce the strain to the body thus relieving the source of the pain.
SpineCor Adult Pain Relief Scoliosis Brace