Scoliosis Researchers Find Comprehensive Scoliosis Treatment Superior
Italian scoliosis researchers examining conservative management of scoliosis found that conservative care that combined both scoliosis bracing with scoliosis specific exercise with hands on management but their providers had a significant advantage over other types of conservative treatment.
The study was presented a SOSORT in 2009 and was titled: Effectiveness of Complete Conservative Treatment for Adolescent Idiopathic Scoliosis (bracing and exercise) Based on SOSORT Management Criteria: Results According to the SRS Criteria for Bracing Studies – SOSORT Award 2009 WinnerStefano Negrini*. Salvatore Atanasio, Claudia Fusco and Fabio Zaina

Study Conclusion:
According to our results, in patients that are at risk, it is possible to avoid surgery, provided that the patients follow their prescriptions (for exercise and dynamic bracing) and adhere to the regiment of treatment. By respecting the Society of Scoliosis Orthopedic and Rehabilitation Treatment (SOSORT) criteria and focusing on compliance, a complete, conservative treatment based on the bracing and exercise will produce results, according to the Scoliosis Research Society (SRS) criteria, which are much better than what has been reported previously. This paper demonstrates the importance of the human approach altogether with the technical aspects of treatment.
This independent research study on Comprehensive Scoliosis Treatment was conducted by highly regarded research divisions of the leading scoliosis research societies, SOSORT and SRS. Our doctors are Founding Members of SOSORT and follow the scoliosis treatment guidelines of the organization.
It should be noted that during the course of the study researchers used both bracing and specific scoliosis exercise but early on in their step by step process they shifted away from using hard bracing in favor of dynamic soft bracing (SpineCor). This comprehensive corrective care approach of non-surgical scoliosis treatment was found to be highly effective for stopping the progression of curvatures in the study subjects and is the type of treatment protocol we use in our practice.
Our Comprehensive Scoliosis Treatment
For this reason we utilize a comprehensive scoliosis treatment approach to help with scoliosis that includes the following:
• Active Release Techniques for Scoliosis
• Nu-Schroth Method of Scoliosis Exercises
• Flexible SpineCor Scoliosis Brace
• Specific Chiropractic Adjustments for Scoliosis
• Vestibular Testing and Treatment for Scoliosis
• Custom Orthotics and Shoe Lifts for Scoliosis
Active Release Techniques for Scoliosis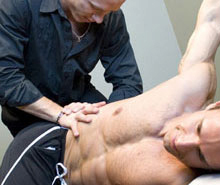 When a scoliosis has become chronic (as in adult scoliosis) it is important to first warm up and rehabilitate the shortened connective tissues and other the structures around the spine. By using Active Release Techniques for scoliosis to loosen shortened the specifically shortened connective tissues surrounding the postural muscles of the spine, thus preparing these muscles to be lengthened and strengthened.
This can be achieved manually or with the use of a specialized Flexion/ Distraction table designed to elongate and unwind the spine as the ART is applied to the shortened postural muscles. This table is equipped with specialized corrective harnesses that to isolate the abnormal lateral curvatures of the spine that need to be restructured and pulled back into correction. This also help rehabilitate the discs of the spine that have become somewhat rigid and inflexible due to the structural changes associated with the chronic scoliosis.
Nu Schroth Scoliosis Exercises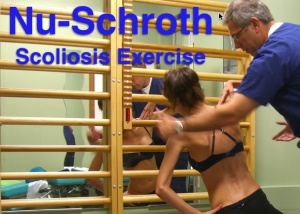 The next type of corrective movement therapy we employ is a Nu Schroth Method of scoliosis exercises that are designed to lengthen and strengthen the specific muscles on the inside of the curvature that have shortened and weakened. This method is best descirbed as a specfic physical therapy for scoliosis designed to help stabilize and reduce scoliosis curvatures.
It does this by helping reshape the rib cage and de-rotate the spine with breathing techniques and isometric exercises. Based on a simple and elegant idea of body blocks where the shoulder girdle, torso and pelvis are opposing blocks, each rotating against the other, creating the 3 dimensional deformity associated with scoliosis. The Schroth Method uses mobilization techniques designed to expand the flat areas of the ribcage, while de-rotating the spine with breathing. These exercises are done in a wide variety of functional positions including sitting, standing and walking.
These specialized exercises are utilized to re-educate the muscular patterning of the body that will eventually become the new default pattern. While these exercises are taught by our trained therapist in our scoliosis treatment facility in Orange County, they are then intended to be done by the patient at home on a regular basis.
This phase of care is critical to providing lasting changes in the body and prevent relapses of the old patterns of movement that lead to the scoliosis.
While scoliosis specific exercises are quite helpful for both adolescents and adults, it is important to carry over these corrected movement patterns into ones daily activities. Patients are encouraged to become more aware of their posture and consciously correct it during the course of their normal daily activities but often, this is not enough.
* We are the only providers of the Schroth Method of scoliosis treatment in Orange County.
SpineCor Scoliosis Brace

The Flexible Scoliosis Brace


The dynamic SpineCor scoliosis brace is a uniquely designed orthosis that moves with the body to help establish corrective movement patterns when the patient is doing their usual and customary daily activities. Unlike most scoliosis braces that are considered static braces which immobilize the spine, the Spinecor brace is a dynamic soft brace for scoliosis was specifically designed to allow for corrective movement while it is being worn. This is a revolutionary idea which has set the Spinecor brace apart from other bracing methods. In fact, SpineCor should probably not be called a brace as it acts more like a corrective movement orhtosis than a restrictive brace. 

Since SpineCor is a custom made orthosis, finding a provider with considerable experience in fitting the brace to your particular scoliosis curve pattern is essential. Our doctors are among the most experienced SpineCor provides in the U.S., fitting hundreds of braces each year, while most other providers only fit 3-4 braces a year. 
In addition, our doctors helped develop modifications of the SpineCor brace for treatment of scoliosis is adults. SpineCor was originally developed by 2 orthopedic surgeons in Canada that were given a $12 million dollar grant to study scoliosis. One of the major innovations to come out of their research was the SpineCor brace. In fact, with 20 years of scoliosis brace research backing it is the most well supported scoliosis brace in the world.
Chiropractic for Scoliosis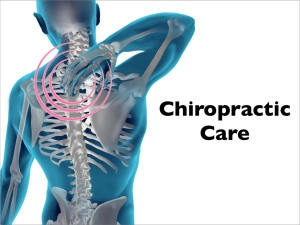 While chiropractic treatment alone for scoliosis has not been found to be effective in reducing curvatures, yet a program that incorporates specific adjusting to key segments of the spine can be beneficial for helping soft tissue adhesions and nerve root irritation in scoliosis, especially in adults. The key for success is to only adjust segments, in a non-force way, that can adversely effect the overall posture of the spine, like the atlas or the pelvis.

Generalized adjustments to the spine, especially when applied to the apex of the curvatures can actually worsen the scoliosis, because the apex of the curve is considered an unstable segment and should be avoided when adjusting the spine, according to Dr. Christine Coillard, M.D. (world renowed scoliosis speciaist and co-developer of the SpineCor brace). 

Yet, gentle chiropractic techniques as Atlas Orthogonal, NUCCA or Grostic can be very benficial for treatment of a functional scoliosis by avoiding adjusting the apex of the curvatures and only adjusting segments that can contribute to the scoliosis, such as the atlas or pelvis.
 Keeping Your Eyes on the Horizon is More Than Just a Metaphor, it is an important part of your brain function. People who are prone to sea sickness know this quite well. It is one of the few things they can do naturally to help ward it off. Keeping your eyes level is an important part of your balance and your body will adapt itself to make this happen so your brain can stay happy. 

For instance, if the atlas is out of alignment and the head is unleveled then the "righting mechanism" of the brain that requires our eyes to maintain a level with the horizon will cause the spine to adapt (curve to the side) to allow the eyes to remain level. Restoring the position of the atlas can allow the head to return to a neutral (orthogonal) position, thus releasing the need for the spine to distort in compensation. 
[embedit snippet="Atlas Orthogonal for Scoliosis"]
Our doctors that specialize in Scoliosis Treatment in Orange County can provide such treatments, when indicated.
Vestibular Function and Scoliosis


The vestibular apparatus of the brain and inner ear is a complex equilibrium system that balances the body and can also contribute to a scoliosis curvature with a simular adaptive mechanism as mentioned above. Our doctors screen for such abnormalities and if there appears to be an issue we provide additional diagnostic evaluation and treatment to help resolve the issue.
Custom Orthotics and Shoe Lifts for Scoliosis
When the pelvis is unlevel it can also cause the spine to compensate to keep the eyes at a level, thus restoring the balance in a pelvis can also be an essential part of scoliosis treatment. Whether the imbalance is from an apparent leg length discrepancy, a true leg length deficiency or a fallen arch of the foot, it must be restored in order to bring balance back to the spine. To do this our Orange County scoliosis treatment specialist will evaluate this to determine if a corrective lift or custom orthotic may be necessary to help balance the spine.