If you or your child is suffering from scoliosis and you're frustrated with conventional medical solutions are so limited that you're looking for alternatives, then our treatments may be right for you.
Scoliosis Treatment Alternatives in Irvine California offers a variety of evidence-based treatments that are designed to help both adolescents and adults reduce scoliosis curves to relieve pain, reduce distortion in the body and to avoid surgery. While our treatments are an alternative to standard medical care for scoliosis here in the United States, they're used extensively throughout other parts of the world. Because our treatments are based on current scientific knowledge about scoliosis and are well supported in the scoliosis treatment research literature, they are effective in improving scoliosis.
5 Quick Facts About Scoliosis
Scoliosis is a 3 Dimensional Disorder
Every Scoliosis Has Both a Structural and Postural Component
Most Adolescents with Scoliosis Do Not Have Pain
Scoliosis Can Progress In Adulthood
Many Adults with Scoliosis Do Have Pain
How to Treat Scoliosis
Conventional medicine tends to offer very little in the way of scoliosis treatment in Orange County. For adolescents, the options are usually do nothing at all (watch & wait), hard bracing or scoliosis surgery. For adults, the options are to learn to live with your pain, pain medications, injections or surgery. None of these options are particularly attractive to most people.
The problem with "Watch & Wait" is that it does closes an opportunity for scoliosis correct at a time it is most correctable. The larger the curve gets the more challenging it becomes to correct. By waiting and doing nothing the scoliosis is allowed to worsen, often to the point that surgery is the only option.
Hard Bracing is often used as a token stop-gap type of treatment between watch & wait and surgery but it also has it's own drawbacks. A hard brace (also known as a static scoliosis brace) has a tendency to cause muscle atrophy as it immobilizes the spine much like a body cast. When the spine is held still and not allowed to move it weakens the muscles, especially those on the insides of the curve where they are already weak. So while you may get a reduction in the curve while your child is being held in the brace, once the brace is removed the spine tends to move back to where it was before or often gets even worse since the muscles holding the spine are weakened even further.
For adults suffering from pain related to their scoliosis Pain Management is often prescribed but these only mask the symptoms of pain and do nothing to correct the underlying cause of the scoliosis. Scoliosis Surgery, while necessary in a small percentage of cases (1-2%), should always be the treatment of last resort as it has significant risks and is irreversible.
You do have options though. There are a lot of good alternative scoliosis treatments available to you right here in Orange County. Learn More About Our alternative scoliosis treatments by clicking on the links below:
Our Scoliosis Treatment in Orange County
About Our Corrective Movement Therapies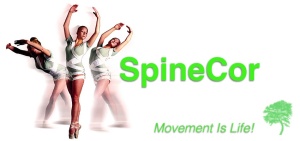 SpineCor is the first and only type of dynamic scoliosis brace that has been clinically proven to not only stop the progression of scoliosis but also help improve curvatures. Unlike with traditional hard braces, with SpineCor there is no muscle atrophy or side effects due to the fact that SpineCor is an "un-brace" that actually helps strengthen the muscles of the spine as it's worn. So wearing the SpineCor is almost like being in physiotherapy 24/7. Although Spinecor scoliosis brace a soft, dynamic tension brace that is not only highly effective in helping stop the progression of scoliosis but it's also clinically proven to help reduce scoliosis curvatures, even in adults.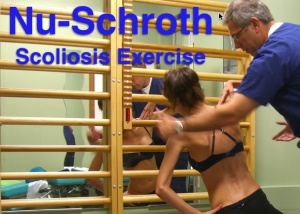 Nu-Schroth is a Schroth Method based scoliosis specific exercise program that utilizes the same specific movements but also incorporates current principles of neuromuscular rehabilitation. Through specific breathing exercises, postures and dynamic movements the patient is able to strengthen the specific weakened muscles on the insides of the curves that allow for relief to the strained muscles on the opposite side.
Our Nu-Schroth exercise therapist teach these highly specific home-based exercises in an immersive type of program in our office over the weekend to help your body gain better muscle memory so that they are performed correctly.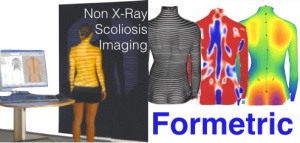 Formetric Rasterstereography is a non X-ray form of imaging that was developed in Europe and uses harmless plain light to project across a patients back that is then recorded by a digital camera at a 45 degree angle which enables a computer to triangulate the points on the back to create a topographical map. With this information, our doctors can analyze your scoliosis to determine if it is improving, staying stable or getting worse. As long as we see the improvement we don't have to get an x-ray. If we see something abnormal then we'll get an x-ray. This allows us to reduce the total x-Ray exposure over the course of your care by as much as 50%.


It used to be that scoliosis treatment was only for adolescents and adults had to either learn to live with their pain or consider undergoing a long and complex scoliosis surgery. Not any more. Now alternative scoliosis treatment is available to adults too that can help them relieve their pain, improve their function and help them avoid scoliosis surgery.

Active Release Technique is a hands-on myofascial therapy designed to help restore normal mobility in the spine by freeing up fascia that has adaptively shortened as a result of the scoliosis. The muscles on the concave side (inside) of the curve tend to shortened and weaken compared to the muscles on the convex side (outside). By manually releasing these tissues with specific manual therapies the range of motion and strength of these shortened and weakened muscles can be improved.
Our Scoliosis Center in Orange County California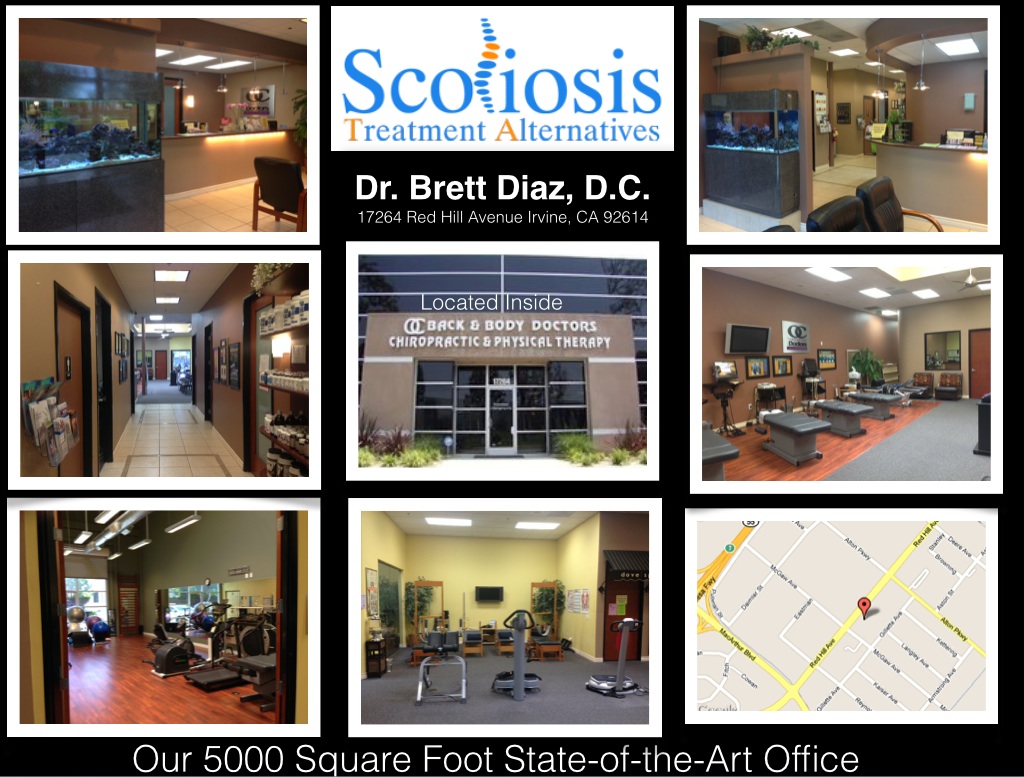 Find out if alternative scoliosis treatment in Orange County is right for you! Call today for a Free Phone Consult at (408) 379-0133.
Or
Contact Us