Looking For Alternative Scoliosis Treatment In Seattle Washington?
Our practice is focused on the alternative treatment of scoliosis for both adolescents and adults. Our goals are to help you reduce your curves, relieve your pain to help you avoid scoliosis surgery. Our comprehensive treatment approach for scoliosis is best described as being a corrective movement therapy program that utilizes the latest innovations in the conservative care of scoliosis. Learn more about our treatments in the links below.
Adolescent Idiopathic Scoliosis Treatment

Scoliosis most commonly starts around puberty due to the rapid growth of the spinal column and hormonal changes resulting in a delay of the growth plate on one side of the vertebra that results in the initial lateral bending of the spine.
If left uncorrected, the continued uneven growth at this bend can continue to grow and also twist causing a rib hump on the side of the curve and a flattened area on the other side. The body starts to adapt it's movement patterns to these central changes, which further reinforces the abnormal scoliosis patterns causing them to progress.
While the conventional recommendation at this stage is do nothing to correct it just to "watch & wait", this advice can often lead to further progression of the curve, making it even more difficult to correct. Intervening as early as possible with conservative measures while your child is still growing can help the delayed growth plate catch up and help reduce not only the postural component of the curve but also the structural component (changes in the bones of the spine) resulting in a permanent reduction. (Learn More Below)
Adult Scoliosis Treatment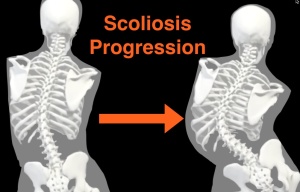 Since adults are done growing the structural component of their curve is essentially set as the bony changes that have already occurred but that does not mean that conservative treatment cannot help an adult with scoliosis. Every scoliosis curvature has both a structural and a postural component of the curve. The postural component is the collapse of the curve over time due to gravity, which can be upwards of 20% of the total curve.
This collapse of the spine is usually where the pain comes in. Fortunately it usually quite correctable in most adults. This means that while we won't be able to totally eliminate your curves with our treatments we can help you eliminate or reduce your pain and postural distortion with our corrective movement therapies.
Treatment is designed to help you lengthen and strengthen the specifically shortened and weakened muscles in your spine to help you naturally improve your overall body posture by moving it more towards mid-line. This allows you to improve the postural collapse of your curve, which is usually what causes the pain. This can diminish your scoliosis curves and help you take control of your curves without the need for an invasive scoliosis surgery.
Learn more about Seattle Washington scoliosis treatments by reading about them below:
Our Scoliosis Treatments Include:
SpineCor – A Dynamic Approach To Scoliosis Treatment
The Schroth Method of Scoliosis Specific Exercise
Atlas Orthogonal Treatment For Scoliosis
Meet Our Provider In Our Seattle Office

Find Out If Our Treatments Are Right For You By Scheduling A Free Scoliosis Phone Consultation Click Here