Current Concepts in Scoliosis Adaptation
What Katherina Schroth was witnessing were adaptations of the body to imbalances created by the scoliosis in the spine. These changes in the body balance tend to cause further imbalances in a process called the "Vicious Cycle of Scoliosis" which are usually responsible for the pain related to the scoliosis.
The scoliosis causes an adaptation in the postural muscles of the spine causing the muscles on the insides of the curves to shorten and weaken. Since scoliosis has a rotatory component the muscles in certain kinesthetic muscle chains are also affected. The specific kinetic chains are found in the paired Spiral Lines and the Deep Frontal Lines of the body.

In general, one side of the chain has shortened and weakened while the other side is strained (and often painful) as it struggles to keep the body upright on the opposite side.
This gradual process then causes a "re-calibration" of the nervous system, including the map of your body in your brain. This map tells the brain where your body is in space. For instance, you can walk in a darkened room in your house and reach for a light switch because your brain has a map of both your body, your arm reaching for the light switch.
When the map is altered (ex. – your center of gravity is positioned away from the midline of your body) then it can cause you to sit in a crooked position while you think your body is completely up right.
This is why I always hear from the parents of my adolescent patients say: "I am constantly telling her to sit up straight!" and she always replies "but I am!" That's because in her brain, she is sitting up straight.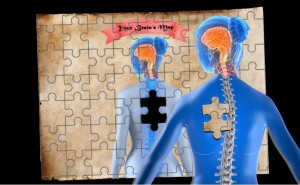 This altered map of the body in scientific terms is known as a lack of sensory motor awareness. It results in habitual patterns of movement and posture that become ingrained in the nervous system and can contribute to the progression of a scoliosis curve so it is one of the things that must be addressed in scoliosis.
Unlearning Bad Habits by Imprinting New Habits on the Brain
Habits of movement and posture are usually unconscious and thus are not easily changed. That's why just telling someone to "sit up straight" doesn't work. The habitual pattern has already been formed. Now, in order to change that habit you have to replace the old habits with new ones that will help retrain the brain where normal really is for your spine.
Recent brain research shows us that there are multiple centers in the brain that must be activated in specific sequences that result in substituting an old, unwanted habit with a new and improved one. The creating and strengthening of these new circuits to replace the old unwanted imprinted habit is what allows us to create new and improved habitual patterns of movement in the body that can help improve a scoliosis curvature.
Our centers of higher learning found in the neo-cortex of the human brain also interconnect with portions of the more primitive mid brain called the stratium. The midbrain is responsible for more automatic activities such as breathing and posture.
Step 1 – Exploring the New Behavior and Making Sense of It
The easiest way to learn something new is to start with learning the basic units then placing them into short sequences. This is known as "chunking up" the information. For example, to remember a phone number it is easier to remember a long sequence in distinct chunks. For instance it's far easier to remember three chunks of numbers like 800-943-1254 than it would be to try and remember it as individual numbers 8-0-0-9-4-3-1-2-5-4.
This type of learning takes place in the interplay between the pre-frontal cortex and adjacent areas of the brain called the Stratum. The prefrontal cortex is the area at the brain just behind your forehead that is responsible for executive functions such as evaluating if your efforts are good or bad, better or worse, same or different. The stratum is the part of the brain that helps coordinate motivation with body movement. It facilitates and balances motivation with both higher-level and lower-level functions, such as inhibiting unwanted behavior and fine-motor functions of voluntary movement.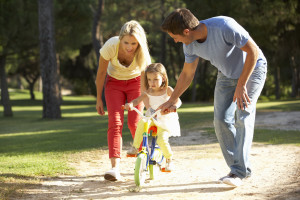 If you recall back to when you first learned to ride a bike. After you stumbled upon the right series of movements that allowed you to balance yourself to ride straight for several feet you began to refine your movements. In the beginning you over steered the bike and leaned too much one way and then the other but as you continued to ride your brain dropped off those unnecessary movements and only keep the ones that were necessary for you to ride smoothly.
When a person learns something new, like a dance step this increase in blood flow and activity in the pre-frontal cortex. This is when you learn something new you often feel like your brains hurts and you will rub your forehead. That's because those areas of the brain are literally working overtime to make sense of this new information by testing what works and what doesn't work.
That's also why we must take a long break after a couple of hours of learning new exercises. It gives your brain a chance to rest and process the newly learned information.
In teaching scoliosis exercises the component parts of corrective movements are first taught, (ex – directional breathing, activating weakened postural muscles on the concave sides of the curves and moving the body more towards the midline.
Then these component movements are later combined while doing move complex positions, such as Tea Pot series and later dynamic activities such as Schroth Walking.
Step 2 – Soft Habit Formation
When these new patterns of movement are repeated multiple times throughout the training unnecessary component movements begin to drop off and only those essential movements are kept. To do this the brain starts to form a feedback loop between the stratum and the sensory motor cortex, where the map of your body is stored. In this process these essential individual components are clumped together into a single new pattern of movement that has the ability to impact the sensory motor cortex.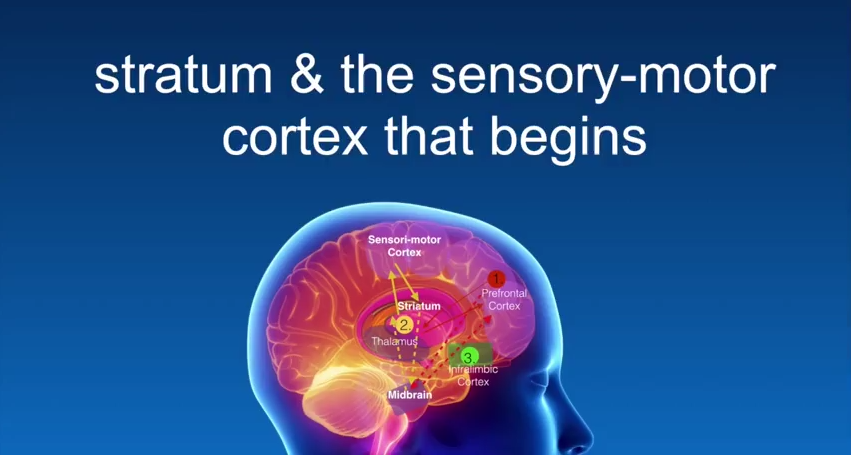 In this phase a soft habit is starting to be formed in the interplay between the stratum and the sensory motor cortex that begins to "package" the essential component movements into a singular patterned movement. While these movement patterns are beginning to be shaped into something resembling a habit they have not fully imprinted in the memory yet.
Imprinting a Movement Pattern Into the Brain
A habit takes approximately 6 weeks to fully form, which is why once these new patterns have been learned patients are required to continue doing them at home on a daily basis until they are fully imprinted into the neuronal circuitry. Once this has been achieved these new patterns of corrective movements can replace the old damaging patterns and allow the patient to be able to reduce the postural collapse that had been occurring due to the scoliosis.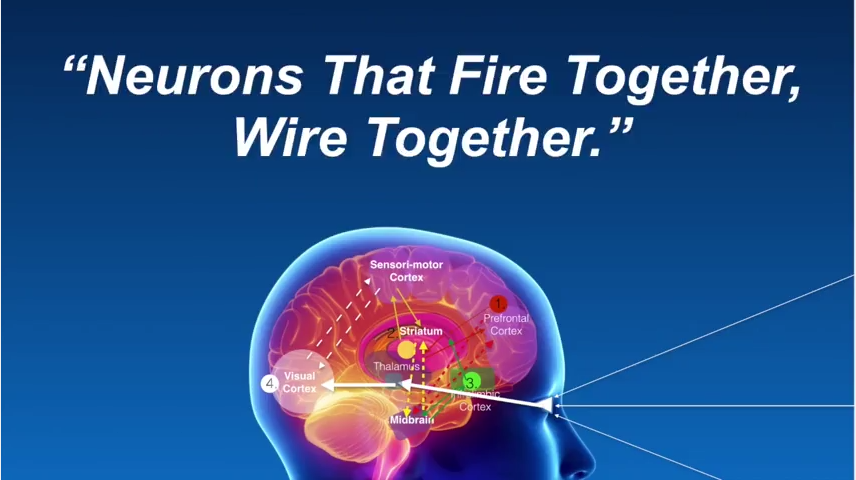 Home Based Corrective Movement Therapy Program Needed To Permanently Imprint Movement Patterns In The Brain
While Katherina Schroth may have never known that her Schroth Method of Scoliosis Specific Exercise was not only strengthening weakened muscles in the spine it was also retraining the brain with the corrective postures and the movements. Also by using mirrors to help re-establish a new normal of where spine should really be compared to where it currently is located allowed her patients to couple it with other sensory input to allow for improved integration by tapping into the modern neuroscience concept that "Neurons that fire together, wire together".
Other Supportive Corrective Movement Therapies
The dynamic SpineCor brace is another method of corrective movement therapy that operates on the same principles. As a corrective movement orthosis SpineCor that moves with the body it also provides the brain with feedback as to where the body should be and how it should move by giving it gentle reminders "no, go this way." Overtime, this repetitive movement correction results in the brain making permanent corrections in the habitual patterns of movement that are corrective for the scoliosis.
Combination of Corrective Movement Therapies for Moderate and Severe Curve
In cases of mild scoliosis, the Schroth Method might be prescribed alone but for moderate to severe curves Combination Therapy using both SpineCor and Schroth is usually recommended.