Scoliosis Test for Adolescent Idiopathic Scoliosis
by Dr. Brett Diaz, D.C.
Scoliosis Test – When to Begin Scoliosis Treatment?
From an orthopedic surgeon's prospective the advice when treating an adolescent with idiopathic scoliosis has been to "Watch and Wait" before beginning any type of scoliosis treatment. While acknowledging that this somewhat of a gamble because of the uncertainty of scoliosis progression, most surgeons are hesitant to initiate any scoliosis treatment unless they saw that the curvature had advanced. The reason for this is because the treatment options they recommend are either very cumbersome (hard bracing) or quite invasive (scoliosis surgery) that they wanted to spare the patient from it if it were not absolutely necessary.
The problem with this "watch and wait" approach is that it slams shut the very narrow window of opportunity to catch these scoliosis in the early stages when they are most correctable. Watching and waiting effectively causes you to miss this opportunity of nipping a scolisis in the bud before it becomes more difficult to control with intervention to stabilize the curvatures. For those cases of scoliosis that are more likely to advance this approach almost makes the need for scoliosis surgery a self fulfilling prophecy.
Because of this issue there has been a need for a way for doctors to be able to determine which scoliosis curvatures are more likely to progress so that they can begin the appropriate intervention at an earlier stage in hopes of avoiding a scoliosis surgery.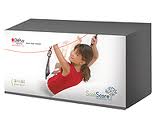 Scoliosis Cause
While there is no apparent single cause of scoliosis there has always been a strong suspicion that there was a genetic link to the
onset of adolescent idiopathic scoliosis due to anecdotal evidence of it being an inherited trait in many cases. If a genetic link could be established than perhaps doctors could better determine which cases of idiopathic scoliosis were more likely to progress and would warrant the start of scoliosis treatment in the early stages of scoliosis.
Is Scoliosis Genetic?
Genetic scientist at Axial Biotech Laboratories set out to determine: "Is scoliosis hereditary?" Through recent advances in genetic research were able to identify a connection. They have been able to identify 28 genes (called progressive genes) in a persons DNA that when present suggest that an idiopathic curvature will likely progress. They have also identified 25 genes (called protective genes) in the DNA that an AIS curve when present are more than likely to stop the progression of a scoliosis from reaching a severe level when surgery is recommended.
Scoliosis Test
From this research they developed the first genetic scoliosis test to assess the likelihood of scoliosis progression. The Scoliscore Scoliosis Test is very accurate genetic scoliosis test for Adolescent Idiopathic Scoliosis (AIS) curve progression that has been clinically validated in certain genetic populations. It is a painless lab test that requires simple saliva sample so no blood needs to be drawn to evaluate the child's DNA.
While an adolescent with idiopathis scoliosis will have both sets of genes in their DNA, the ratio present in a DNA sample can predict the likelihood that the child's curve will or won't progress to the level that surgical intervention is indicated. Through a clinically validated algorithm a ScoliScore AIS Progression Score (between 0 – 200) is generated based on a child's unique genetic markers. The results of this scoliosis test can provide doctors a measure of the likelihood of the progression of a scoliosis so that they can choose the scoliosis treatment option that is best for them.
Indications for ScoliScore Scoliosis Test
The ScolioScore test was developed based on research on specific genetic populations so determining who is a candidate for this scoliosis test is limited to patients that fit within these very specific parameters.
Diagnosis of Adolescent Idiopathic Scoliosis
Ages 9 -13 years old

Caucasian males and females (North Americia, South America, European, Eastern European and Middle Eastern)

Mild Scoliosis Curvature (10 – 25 degree Cobb Angle
This particular scoliosis test is not intended for other types of scoliosis such as Congenital scoliosis, Infantile, Juventile or adult scoliosis.
Scoliosis Treatment
Scoliscores are divided into three basic categories that help doctors determine the need for scoliosis treatment in the early stages of an idiopathic scoliosis in an adolescent: a low, intermediate or high liklihood of a scoliosis progression to greater than 40 degrees before reaching skeletal maturity.
Low Risk – ScoliScore (1 – 50) is considered a low likelihood of progression to a 40 degree curvature by the time they stop growing. 75% of those taking this test are expected to fall within this category.
While most orthopedic surgeons would not recommend further monitoring or treatment with a low ScoliScore, it should be noted that while the risk of reaching a 40 degree scoliosis by the time a child reached skeletal maturity between ages 15 and 18 there is still a chance of progression into adulthood if a curvature passes 30 degrees.
Once a scoliosis passes this threshold gravity tends to take advantage of it and can cause it to progress at a slow rate of about a degree per year. That would mean that a 15 year old with a 30 degree curvature still has the potential of developing a 50 degree scoliosis by the time she is 25 if nothing is done to stabilize her spine. In these cases, starting conservative scoliosis treatment and continued monitoring of the case is still recommended.
Moderate Risk – ScoliScore (51 – 180) is considered a moderate degree risk of progression to a 40 degree curvature by the time of skeletal maturity. Approximately 24% of patients taking this test will fall within this category. Continued periodic monitoring of the scoliosis and immediate start of conservative treatment is recommended for this group.

High Risk

– ScoliScore (181 – 200) is considered a high degree of genetic risk that a curvatures will progress to 40 degrees or more before reaching skeletal maturity, unless something is done to stablize the spine. Fortunately, only 1% of patients taking the Scoliscore test will fall within this category.

It is recommended that these patients also begin immediate conservative treatment with close monitoring to assess progression. While some may be able to avoid surgery with comprehensive conservative measures such as combining the use the SpineCor brace and the Schroth Method the prognosis for these patients avoiding reaching a degree of curvature where surgery is recommended is poor.

Now with ScoliScore this uncertainty can be eliminated thus allowing our doctor to select the best individualized treatment protocols for your child with a high level of confidence in it's outcome.To find out if your child is a candidate for the ScoliScore test give our office a call at (800) 943-1254 for a Free Phone Consultation with one of our doctors or email us at drdiaz@scoliosistreatmentalternatives.com
References:
1. Curve Progression in Idiopathic Scoliosis Journal of Bone and Joint Surgery 1983: 65:447- 445.